I have been training with TNT since November. A little over a month ago I realized I wasn't reaching the physical goals I was setting for myself. I was running, biking and swimming, both with the team and on my own, yet didn't feel like I was building up my strength and endurance as quickly as I was hoping for. Getting in shape for the triathlon is great, but I wanted more! I wanted to make actual life style changes, so that even after the event is over, I can continue to stay active and healthy. So I signed up for a personal trainer at my gym. I've been meeting with her at 6 am, twice a week for over a month now. Yesterday was my first progress check point since signing up. In just a month I've gone from 23% body fat to 14%, lost 3 lbs and an inch here or there. The most exciting part of this for me is just how capable I feel! Like I can take on the world! Triathlon, here I come!
Here are some pics from yesterday's training session that I thought would be fun to share:
We worked the lower body, this was an exercise where I would step onto the box, jump to switch feet and come back down. I had to do this for a minute (which feels a lot longer then it sounds)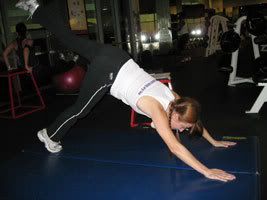 This was a really interesting pilates type exercise where I would balance on one foot and my hands, and bring the other leg under my body, knee bent, then extend it out behind me and hold for a moment.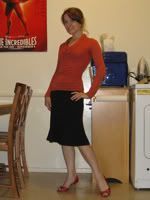 I was feeling so good after my work out, that I wanted to wear something cute to work.
Thanks for checking in! Have a great day!
My Team in Training Donation Page
<3