Saturday mornings are our Bike/Run days, and this week was running due to the rain. Now, I am not a morning person, and weekends are great for sleeping in, so I'm always such a grog~pog when I have to get up at 6:30 and drive myself to Santa Monica to run, especially in the cool and rainy morning. I ran up several hills, twisting through beautiful neighborhoods. When I reached the top it felt great! My knee was getting a little sore, but my asthma had not flared up at all! After some stretching and talking with Pete about taking my running time and focusing on my breathing, I took off back down the hill. As I ran back, I slowed my pace, so as to have better control of my breathing as well as run for longer periods of time. During my run, I found myself thinking of how grateful I am. Grateful for all the support I have received from so many friends, the new relationships that have developed in my life and the realization that I can dedicate myself to anything I put my mind to. When I got back to the picnic tables my knee was throbbing, but I had hardly noticed until we stopped. Turns out I ran 6 miles!!! Not only is that the farthest distance I've run to date, but it is the distance I need to run in the triathlon. An accomplishment I was feeling pretty good about.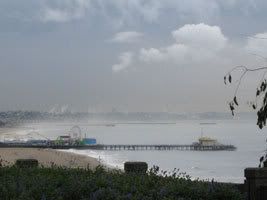 7am on Saturday, looking out at the rainy Santa Monica Pier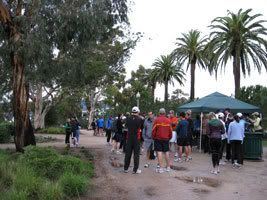 The team hanging out by the picnic tables. They setup a cool little tent to help keep people's stuff dry while we ran.
Chilling with Coach Pete after getting back from our run!
Oh yeah! I'm feeling good!
Now that I'm all dry and warm, it's time to start a new week! Have a great day everyone!
My Team in Training Donation Page
<3