Thursday nights are swim practice nights with the Team. Honestly, I was not feeling it yesterday. It was cold and rainy, and the idea of hopping into an outdoor pool was not exactly on the top of my list for enjoyable things to do when it rains. On top of which, I am usually so exhausted after work, that I just want to go home and rest, so energy was at a massive lo. Of course, as nice as it would be to take a night off, I know there are people out there who, as much as they hope and pray, are unable to take even an hour off from their blood cancer...who am I to complain about getting in a pool when it's raining. I mean, I gotta get wet anyway. Matt and I got to practice early, so we did our best to stay warm and dry as long as we could. Once I got in the pool I just started swimming. I ended up swimming around 20 laps (50 yrds per lap) only stopping to rest for 30-60 seconds a couple times. It was by far my best swim practice yet. Funny how you can be so against doing something initially, but when you finally do it, you're surprised by your overall achievement. In the end I'm glad I went to practice. As the triathlon draws closer, I am amazed at how far I've come. I honestly never thought I could do something like this, much less make it as far as I have. Everyday, I am so grateful for this opportunity in so many ways.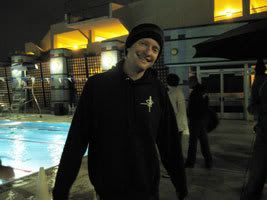 Matt hanging out after we got to the pool. The rain let up for a few, but it was still cold!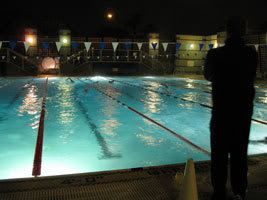 Everyone swimming who came for the 6:30 practice. My practice was at 7:30.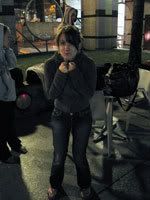 Me bundled up before the swim and still feeling too cold to get in!
I wasn't able to get any more pictures as it began to rain once it was time to hop in. Maybe I'll have some next time!
My Team in Training Donation Page
<3