Today I hit the snooze alarm twice, and barely made it to the gym by 6. I have been moving like molasses! After a great workout with Laura I came home and cleaned up and heavily debated going to work or crawling back into bed. I of course chose to be responsible path and made it to work and have been a busy bee all day. I'll be in bed early tonight for sure!
So aside from training, I have also been raising money to help find a cure for Leukemia and Lymphoma. Honestly, I don't know what stresses me out more sometimes, the physical training, or raising money. It's times like this I get to be creative! Out of a lot of support and collaboration with friends, I am excited to announce a couple fun fund raisers I'm involved in!
*First
of all, my friend Stephanie and I are holding a Garage Sale Saturday morning in Westchester. Half of what we raise will be going towards the
Leukemia and Lymphoma Society
, and the other half will go to the
National Coalition for the Homeless
. If you're in the area and are interested in stopping by, here's the info!
Garage Sale
Saturday, Feb. 21th, 9am - 3pm
~Fingers crossed for No rain!!!~
7620 Kittyhawk Ave.
Westchester, CA 90045
**Second!!
Saturday evening, Matt and I are hosting a Winter Beach Party at Dockeweiler Beach from 6-10pm. There will be all the fixings for hot dogs (veggie option available) and smores, so come on down and have a good time!
***Third!!!
After Brie had a very silly adventure visiting Disneyland, an idea was born! For every $10 donated, I will be hand delivering (dressed as
Giselle from Enchanted
) polished "Happiness and Gratitude" Rocks to the children in the hospital. This is a great opportunity to not only help fight Leukemia and Lymphoma, but also brighten the day of a child. All you need to do is make sure to include "Rocks for Kids" in the comment section of your online donation.
The "Happiness and Gratitude" Rocks!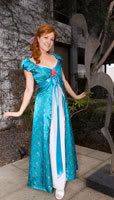 My Giselle costume that I will be wearing to spend the day with the children!
Have a great day everyone!
My Team in Training Donation Page
<3