It feels great to be past the half way mark with my fund raising! Just looking at how many people have come together to support this cause is so incredible! This experience, while not always easy, has been such a blessing. Thank you to everyone for being a part of this! There's no way I could do this alone.
Speaking of not being able to do this on my own, Joel, Ryan and Marin have been kinda enough to host and help me throw a Poker Party! It's going to be a blast! So come on out and try your luck!!!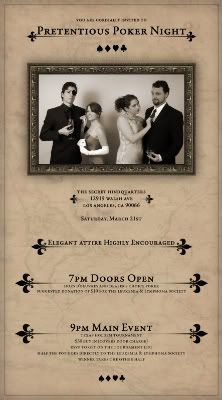 When:
Saturday, March 21, 7:00PM
Where:
12919 Walsh Ave.
Los Angeles, CA 90066 US
Dress Code:
Elegant attire is Highly Encouraged
7:00 PM
Doors Open
~ Hors d'oeuvres and Dealer's Choice Poker
~ Suggested donation of $10 for the Leukemia & Lymphoma Society
9:00 PM
Texas Hold'em Tournament
~ $30 buy in (covers door charge)
~
RSVP
to get on the Tournament list (e-mail hklees@gmail.com)
~ Half the pot goes directly to the Leukemia & Lymphoma Society
~ Winner takes the other half
RSVP for the Party through Evite!
It should be a lot of fun, so if you're interested let me know, or reply by Evite. We do need to know who wants to be involved in the tournament though, so if you're planning to participate you MUST e-mail me ahead of time to put you on the list.
Tomorrow is going to be quite exciting, we are going to be completing the full distance of our Triathlon at practice. So please keep me in your prayers! Have a wonderful day everyone and thank you again for being a part of this with me.
My Team in Training Donation Page
<3