This past weekend I was able to put my wet suit to work! I woke up at 6 on Saturday to get dressed and on the road up to practice. By 7:30am we were suited up and walking down the beach towards the ocean. Before getting into the water Coach Pete talked about not letting the shock of the cold water speed up our heart rate too much, and to remain calm and just swim. We began walking into the water and it was brutally cold! Sure enough my heart rate went up with every freezing wave that hit me. After wading out far enough the wave were no longer an issue, and it was amazing to see how effortlessly we all just floated in our wet suits. Before I go into the next part of my tale, I would like to preface it with this. I
have
swam in the ocean before! My family and I have done several snorkeling trips in both the Caribbean and Hawaii, and I've never had a problem. In fact, here's a fun pic of me just snorkeling away in Hawaii (photo courtesy of Daddy) not a worry in the world:
See how beautiful and crystal clear the water is? Not to mention how warm!!! Here's another picture snapped of some fishies in Hawaii!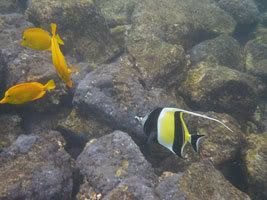 So imagine my surprise when I put my face in the water and all I could see was this:

That's right, brown, gross, freezing cold water! I suddenly felt incredibly claustrophobic and could not put my face down in the water. I bobbed behind as everyone else swam out to the buoy. Thankfully Paiwei stayed behind and he gently talked me through everything. Showed me I really had nothing to worry about, so I just needed to breathe and take it a stroke at a time. He swam along side me the rest of practice and it was so incredibly comforting. By the second lap around the buoy I was feeling great in the water, just gotta think like I'm a turtle! I really appreciated Pai taking the time to stay back with me, it was so calming and encouraging.
Hey! I Survived! (Photo courtesy of Pai!)
A special thanks to Pai, your help this past Saturday was more then I could have known to ask for.
My Team in Training Donation Page
<3